Skate & Donate Fundraiser
Schools, Churches and Organizations who are looking for help generating contributions for their cause. You can reserve your day in advance and secure a maximum of 2 nights per year. Please provide a copy of your 501C3 status prior to your event.
A personalized flyer will be provided for you to print or email. Advertise at least 1 month in advance, the week prior and the day of the event.
At least 25% of ALL sales will be donated, including: Admission, Rentals and Café Purchases.
*As the attendance rises, so does your donation!
This is a great way to bring family and friends together in a Fun, Safe and Clean Environment. Having this fundraiser during a public session gives you the opportunity to invite people to help boost contributions.
*Fundraisers must be booked at least 3 months apart for the same organization and are limited to twice a year for schools and churches, other organizations may be limited to once a year. You must submit your 501(c)3 when booking your fundraiser with us.  Our mission is to focus on schools, churches or other non-for-profits in our local area that focus on children and we have the right to refuse any organization for any reason.  Fundraisers may not be booked for individual persons or individual sports teams.  For example:  Johnny's baseball team can book the event but must advertise to the entire league and the check must be written to Lakeland City Baseball and not the individual team.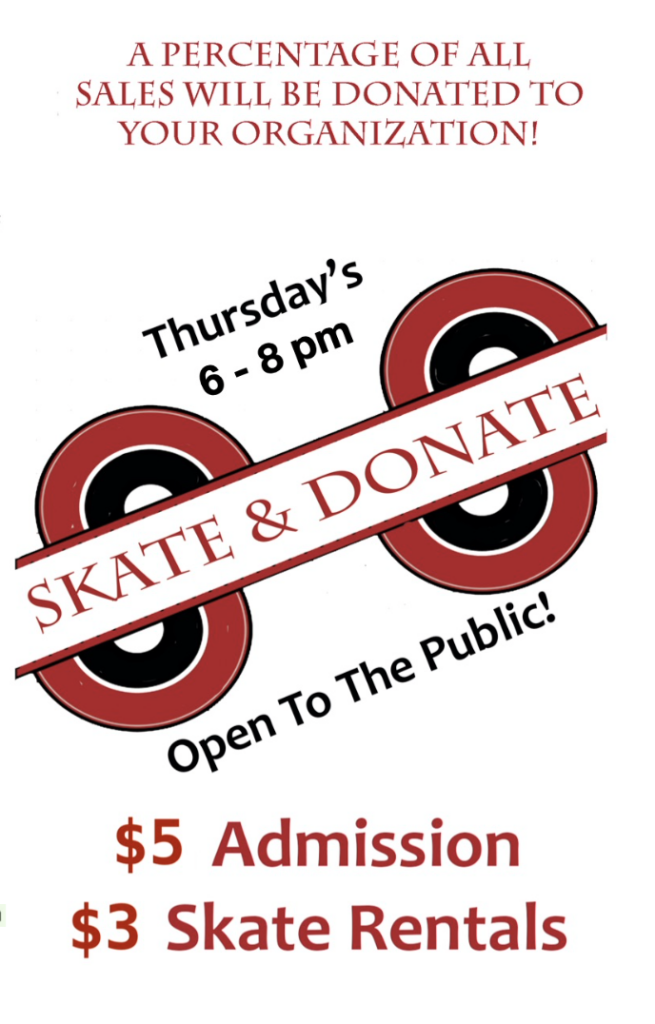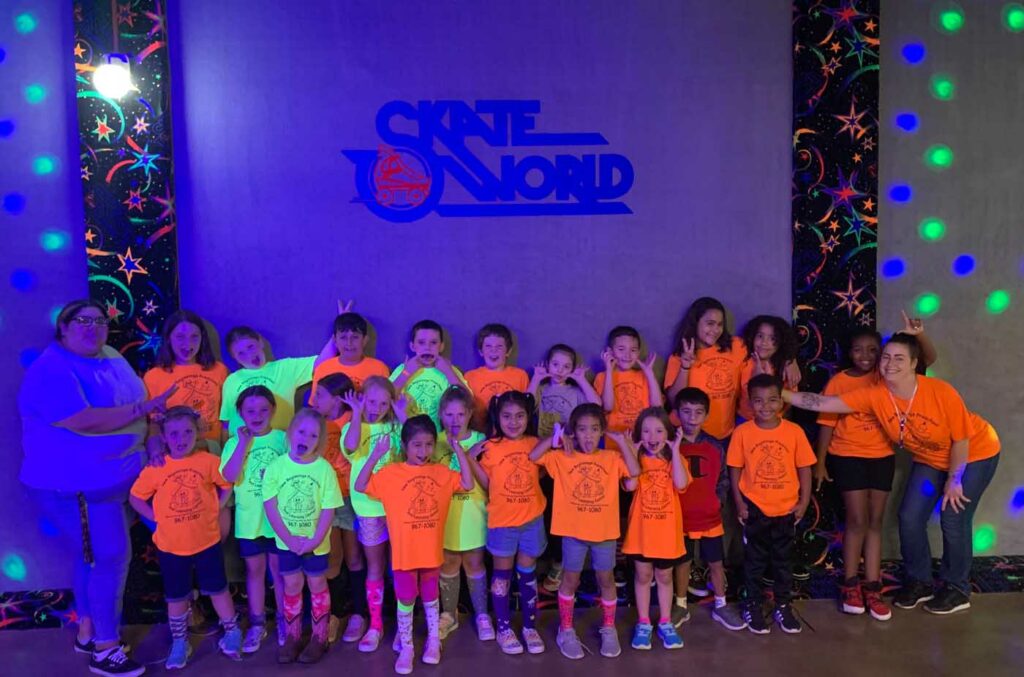 Skate World has donated to the following Schools and Non-for-Profit Organizations:
All Saints Academy
Ambassadors for Christ
American Cancer Society
American Heart Association
American Legion
Assemblies of God World Missions
Bartow Middle School
Berkley Elementary
Best Academy
Board of County Commissioners- United Way
Born Again Church of God
Brian Bracey & One Reason
Buelah Baptist
Carlton Palmore Elementary
Central Florida Speech & Hearing
Children's Medical Center
Christ Church of Lakeland
Christ Memorial Baptist Church
Christian Home Free Will Baptist
Cleveland Court Elementary
CPI Haiti
Cuba Mission Trip
Dixieland PTA
Education and Enlightenment Group
Ewing Memorial 7th Day Adventist
Faith Baptist Church
Faith In Action
Faith Wesleyan
Family Fundamentals-United Way
Family Worship Center
Fire Youth Basketball
First Pentecostal
First UMC Capital Building Campaign
First United Methodist Church
First United Pentecostal Church
Florida House Council at Lakeland
Florida Sheriff's Association
Florida Southern College
Florida Trooper
Fundacion Teleton USA
Geneva Classical Academy
George Jenkins High School Cheerleading
Gibsonia Baptist Church
Girl Power of Central Florida
Girl Scouts of West Central Florida
Girls Inc. Lakeland
Girls, Inc. of Winter Haven
Greater New Bethel
Greater Open Door Fellowship
Greater Works Ministries
GymEtc.
Habitat For Humanity
Haines City Annual Pig Roast
Highland City Baseball League
Highlands City Elementary
Horse Tales Farm
Inside Out Youth
Jr. Women's Club
Junior League of Greater Lakeland
Juvenile Diabetes Research Foundation
Kathleen Baptist Church
KidsPACK
Kiwanis Club of Lakeland
Lake Gibson Middle School PTO
Lakeland Christian School
Lakeland City Baseball
Lakeland Destroyers
Lakeland Gators
Lakeland Rotary
Lakeland Storm
Lakeland Volunteers in Medicine
Lincoln Avenue Academy PTA
Magnolia Montessori Academy
March of Dimes, March for Babies
McKeel Academy Central
McKeel Academy of Technology
McKeel Girls Basketball
Medulla Elementary
Moffit Cancer Center
Mother's Against Drunk Driving
Mount Tabor Baptist Church
National American Miss
New Community Church Lakeland
North Lakeland Elementary School
O.A.N. Inc.
Oasis Christian Academy
Padgett Elementary
Parker Street Ministries
Peace River
Philip O'Brien Elementary
Pioneers
Police Athletic League
Polk County PTA
Polk County Sheriff's Office
Polk Education Foundation
Polk Museum of Art
Polk Theatre
Polk Theatre, Inc.
PTSO of McKeel Academy
Randy Roberts Foundation
READ Lakeland
Redeemed Deliverance Dancers
Regal Cares About Kids Day
Ressurrection Catholic School
Rochelle School Of The Arts
Scott Lake PTO
Sleepy Hill Middle School Band
Solid Foundation Ministries
Sonrise Christian Academy
Sonrise Church and School
South McKeel Academy
Southeastern University
St. Paul Lutheran School
Talbot House Ministries
Temple of Deliverance
Teleton USA
The Children's Hospital Boston
The Roberts Academy
The Salvation Army
Top Buttons
Turning Point Church
United Service Organizations
United Way Of Central Florida
USAA
Valleyview Elementary
Victory Christian Academy
Volunteers In Service To The Elderly
Wendell Watson PTA
Winston Elementary PTA
Winter Haven Christian School
Lakeland Police Athletic League
Lakeland Regional Medical Center
Lakeland Roller Derby
Lakeland High School
Lakeland Panthers